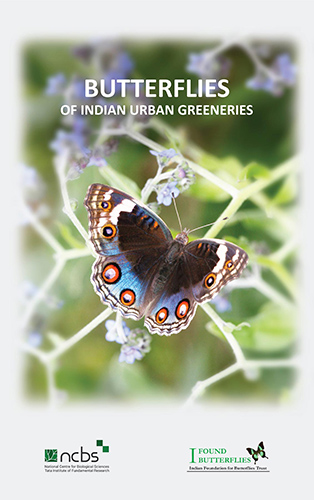 Citation of the Brochure:
Kunte, K., Lochana R., Lalrintluanga and V. Nawge. 2023. Butterflies of Indian Urban Greeneries (brochure). Indian Foundation for Butterflies Trust and National Centre for Biological Sciences - TIFR, Bengaluru, India. 14-page, foldable brochure.
Information about the Brochure:
This brochure is a product of an ongoing study of Indian butterflies conducted collaboratively by the Butterflies of India consortium, composed of many research institutions, NGOs and citizen science groups. It is a handy pictorial guide depicting nearly all the butterfly species of urban greeneries across India, except in the truly forested regions. It is aimed at creating awareness and educating citizens, facilitating long-term monitoring of butterfly populations, and aiding conservation efforts by the State Forest Departments to protect and improve butterfly habitats and help vulnerable species persist in urban landscapes. The primary focus on well-curated images and pointers to key identification features makes this brochure accessible to beginners, including children.
The brochure is particularly helpful for educational and other outreach activities, long-term butterfly monitoring activities, and great for schools and other educational institutions. It also makes a great gift!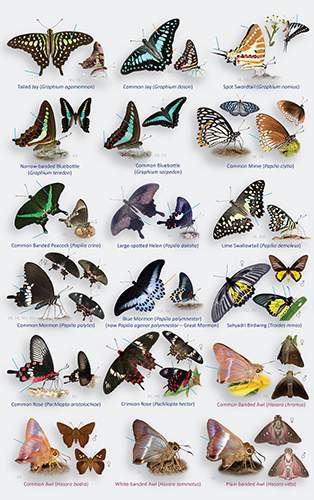 For more information on Indian butterflies, including research, monitoring, and conservation efforts, see the Butterflies of India website (https://www.ifoundbutterflies.org), download its associated mobile app (https://www.ifoundbutterflies.org/BOI-mobile-app), or contact:
Indian Foundation for Butterflies Trust: Email: secretary@ifoundbutterflies.org. Phone: +91 6362-512-292.
or
Biodiversity Lab: National Centre for Biological Sciences - TIFR, GKVK Campus, Bengaluru 560065, India. Email: krushnamegh@ncbs.res.in. Phone: +91 9483-525-925.
How to Obtain Copies of the Brochure:
You can obtain copies in person at NCBS in the north or JP Nagar in the south of Bengaluru, or receive them by post. The brochure is a not-for-profit resource for the community, it is not produced as a commercial product. However, a contributory amount from those who can afford it is appreciated, since this will help us produce further copies for distribution to underfunded schools, and to create additional resources for butterfly-watchers. A suggested contributory amount to obtain the brochure is Rs. 100 per copy. If you can afford it, then pay more than the suggested contributory amount (see further below). You can pay by bank transfer or a UPI-based app such as PhonePe or PayTM using the details below. Email us a screen capture before you pick up copies or ask them to be shipped (include your postal address). For shipping purposes, an order of a minimum of 10 copies is required, and please include cost of shipping and handling (Rs. 150 for 10-30 copies, Rs. 400 for 31-100 copies).
We are identifying local NGOs and individual nature enthusiasts in many cities who will stock the brochure for local distribution. We will add a list here in due course.
Information for Bank Transfer:
Account name: Indian Foundation for Butterflies Trust
Bank details: State Bank of India, Amruthahalli Branch, Bengaluru 560092. Ac. No.: 40332965419. IFSC Code: SBIN0011821.
QR code for payment through UPI-based apps: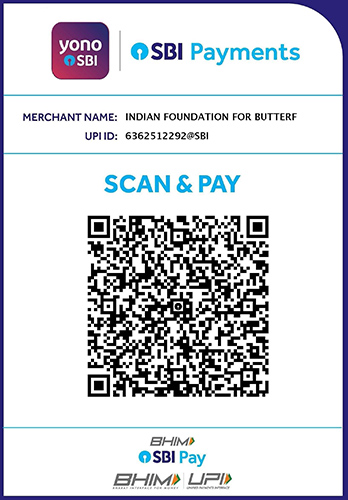 Sponsor This Brochure for Underfunded Schools and Budding Naturalists:
All contributory funds from this brochure will go to distributing free copies to underfunded schools and to students who cannot pay, and to creating new outreach and educational materials on biodiversity and conservation. If you want to sponsor additional copies for distribution to underfunded schools and students, then please get in touch. If you want to sponsor printing of customised copies that may be distributed to a group of people you especially care about (e.g., a school, NGO, society, company, or state forest departments), then that can be arranged, too.
We would like to translate this brochure into Hindi and other regional languages and make the information about butterflies as widely accessible to as many native speakers as possible. If you can help us in this effort, then please contact us. Residents of Bengaluru or those who can visit NCBS for this work are preferred.